Welcome to W.E.D.A.
A MESSAGE FROM OUR PRESIDENT

Jane Hosegood

It was a great shock to learn of the death of our dear friend Jane Hosegood.  Sue and I had only spoken to her the week previously.

Dachshunds were her life and she adored them. They had given her so much pleasure and in return she gave so much back to the breed. She was very proud of WEDA, the club that she was honoured to become Patron of a few years back following on from holding the positions of Secretary and President
for more than 40 years.

Her knowledge of the breed knew no bounds and she was always keen to talk Dachshunds and encourage newcomers into the breed. As Secretary, she was instrumental in gaining Championship status for our Spring Shows.
 
As President, she was also instrumental in bringing WEDA to Bath and this has seen a great partnership develop. It was always such a pleasure to escort her to the shows or the meetings. Her memory was amazing, and she would regale us with stories of the past, mostly with much humour and a glint in her eye.

She was a great friend to both Sue and I and we will miss her terribly. Now at peace, she will long be remembered. Rest well Jane, you were special.
 
Bill and Sue Browne-Cole
----------------------------------------------------------------------------
Our Association was formed in 1946 to encourage the ownership, exhibition and breeding of top quality dachshunds in the counties of Cornwall, Devon, Dorset, Wiltshire, Somerset and Gloucestershire.
We hold two Dachshund Shows each year; one in April/May and the second in October. Every third year, the next being in 2020, our Spring Show becomes a Championship Show where three of the six Dachshund breeds are offered Kennel Club Challenge Certificates.
Our Fun Day every Summer is a light-hearted social occasion at a lovely outdoor venue, where pet dachshunds, their canine friends and their owners can really enjoy themselves without anyone getting too serious.
Our current Membership subscriptions are :-
| | | | |
| --- | --- | --- | --- |
| | Single | Joint | Junior |
| Annual | £4.00 | £5.00 | £1.00 |
| Life | £48.00 | £60.00 | N/A |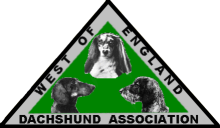 Privacy Notice >> read 
 Our People >> list              News >> read
We have a General Meeting of Members each year in March, where all members are welcome to come along and let the Officers, Committee and other Members have their views on what our Association has achieved during the past year, and to offer suggestions as to what it might try to do in the future. The A.G.M. also gives everyone an opportunity to chat with old friends and to meet new people (but of course the main topic of conversation is always "Dachshunds"!)
The A.G.M. is usually held in Churchinford Village Hall, between Taunton and Honiton.
Dates for Your Diary
| | | |
| --- | --- | --- |
| May 2022 | Championship Show  (subject to Kennel Club approval) | in conjunction with Bath Canine Society at Bannerdown, near Bath |
| October 2022 | Open Show | Hutton Moor Leisure Centre, Weston-Super-Mare |
Next Show
WE HAVE RELUCTANTLY HAD TO DECIDE THAT, DUE TO THE COVID19 SAFETY MEASURES REQUIRED, IT WILL NOT BE PRACTICABLE TO HOLD A SHOW IN CONJUNCTION WITH BATH CANINE ASSOCIATION IN AUGUST 2021.
Championship Show  (subject to K.C. approval) - May 2022 -  in conjunction with Bath Canine Association Ch Show at Bannerdown, near Bath

JUDGES :-
| | |
| --- | --- |
| Best In Show | TBA |
| Miniature Longhaired | TBA |
| Miniature Smooth-haired | TBA |
| Miniature Wirehaired | TBA |
| Longhaired | TBA |
| Smooth-haired | TBA |
| Wirehaired | TBA |
DOWNLOADS >>           .          
Contacts and Other Links
| | | |
| --- | --- | --- |
| Secretary | Juliet Cooper | longdogs13 @ gmail.com |
| Treasurer | Doug Richardson | doug @ sirrondach.plus.com |
Mailing Address
Mrs Juliet Cooper
12 Wordsworth Close
Exmouth
Devon
EX8 5SQ
Schedules >>